It used to be that eating before bed was considered to be a big no-no for weight-loss. This is no longer the case. In fact, if you're working out on a regular basis and eating considerately throughout the day, a bedtime snack is ideal for weight-loss and muscle gain. However, this doesn't mean that bags of chips and ice cream are on the menu. Instead, choose wisely so that your snack fuels your body and assists with important repair processes. We like sugar-free options…
HomeBodyFit before bed snack examples:
1 cup of 0% cottage cheese with a tablespoon of unsweetened peanut or almond butter
Unsweetened 0% Greek yogurt with cinnamon
Baked chicken breast with steamed 

broccoli
However, if you absolutely need something sweet, Cellucor athlete and WBFF Fitness ProJen Jewell (BodyBuilding.com) offers this protein treat which pleases both your taste buds and body.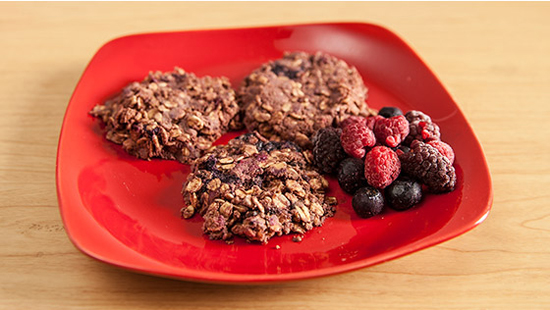 Protein Cookie Delight 
Ingredients
• 3/4 cup frozen or fresh berries
• 3/4 cup raw old-fashioned oats
• 1/3 cup light/unsweetened almond milk
• 2 scoops Cellucor Red Velvet flavored whey protein powder
• Chocolate or rainbow sprinkles (optional, but great when not cutting)
• Honey to taste
Directions
1. Place berries in a bowl and microwave for 45 seconds. Once finished, mash with a fork.
2. Add remaining ingredients to create the batter. Make sure to stir thoroughly so all ingredients are evenly mixed.
3. Place 2-3 tablespoons of batter onto a plate to form each cookie, then place in microwave for 45-60 seconds.
4. Remove, let cool for a minute or two and enjoy.
NUTRITION FACTS
Serving Size: 1 serving
Recipe Yields: 2 servings
Amount per serving
Calories 262
Total Fat 2.5g
Total Carbs 29g
Protein 31g
Ask us about our online meal and fitness plans!