– Corporate Training –
Virtual Group Training Programs
Engage and energize your employees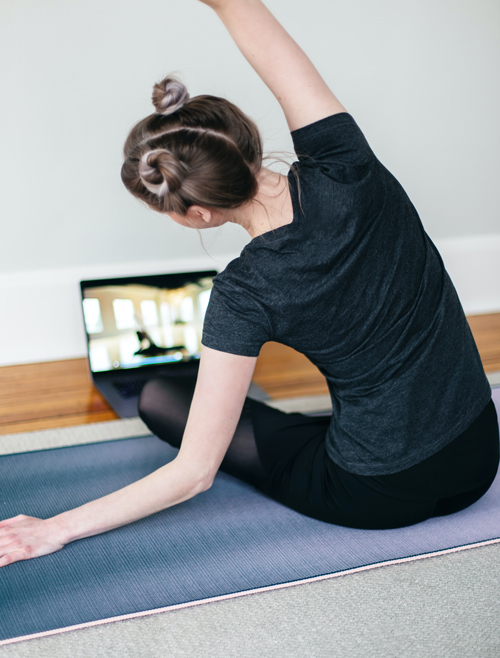 Are you looking to help support your employees' health and wellness, build their resilience by providing them with stress management and fitness options?
HomeBodyFit's virtual exercise and meditation programs engage and refocus employees to better prepare and sustain them throughout their busy workdays; whether it's a midday group training session to boost morale or a desk side stretch and meditation break to relieve stress at the end of a productive day.
…a lifestyle change that is sustainable with real results.

Suzannah Kelly VP, Human Resources & HomeBodyFit client
We will be your partner in driving a positive company culture and getting to the heart of what helps your organization attract and retain happy, healthy, and productive employees. For example, by taking a moment out of one's busy workday to move, stretch and feel reinvigorated, employees benefit from the stress relief and reap the positive rewards that come with focusing on mindful health-focused activities.
Have offices in multiple regions or in different time zones? Employees with varying fitness levels? Not an issue, we can accommodate.

Matt Johnson PTS, Founder of HomeBodyFit
We bring more than 15 years experience motivating and energizing participants within a wide variety of fitness levels…all within a single session!
In order to do this we start your program with a survey designed to identify and target your employees' fitness levels, goals and needs. Not everyone works out at the same pace and we are experts at accommodating the full spectrum of fitness conditions (from the elite athlete to the beginner). Multiple options are detailed for each exercise so that each employee benefits fully.
Options cover:
High intensity workouts
Stretch and recovery workouts
Mindfulness and meditation sessions
Sessions can be customized to align with your culture and engagement activities.
The possibilities are endless.
Want to learn more! Contact us with your questions and goals and/or to request our survey.