– Matt Johnson PTS –
Personal Trainer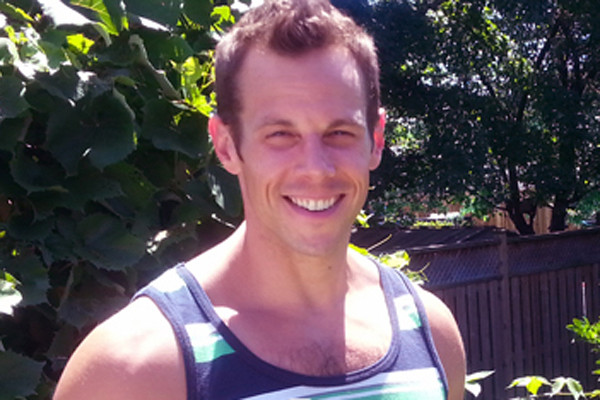 This lifestyle change affected me so deeply that I knew I had to make it my job, so I became certified and discovered what I was born to do.

Matt Johnson, HomeBodyFit Founder and In Home Personal Trainer
For more than ten years I've built my life around training both myself and my clients. I eat, sleep and breathe the fitness lifestyle; it's what I love, but it wasn't always that way.
For the majority of my life I took my athleticism for granted and didn't support my body with the healthy lifestyle my activities required. This led to injuries and activity restrictions that eventually found me at a point where I was overweight and unhealthy. Luckily a diagnosis of high cholesterol changed my focus. I decided it was time to step up and take care of myself or suffer the consequences.
At first it was difficult, but as a veteran of the Canadian Armed Forces I knew that anything I desired was attainable with enough hard work. It's not easy exercising when you're not in shape (and I definitely wasn't secure enough to work out in a public place) and healthy food just doesn't taste good at first. However, I learned to look forward to the next invigorating workout and to crave foods that would benefit my body. This lifestyle change affected me so deeply that I knew I had to make it my job, so I became certified and discovered what I was born to do.
Publications
Matt Johnson is a contributing editor to Inside Fitness Magazine
Philosophy:
Forget about your personal genetics, eating habits, and current fitness level for a moment and focus on something we all have ingrained inside us that trumps any possible excuse. The human spirit. Once we decide we want something bad enough and we're willing to work for it, the rest is easy. Success is inevitable. All you need to bring is a positive attitude, the desire, the heart and I'll work my hardest to make sure you achieve your goals. By reading this you've shown a passion to change and I'm excited to start this journey with you. Welcome.
Certifications:
CanFit Pro PTS
Certified Nutrition & Wellness Specialist
Certified Fitness Kickboxing Instructor
LdSH (RC) Armoured Crewman Military Veteran
Fitness Kickboxing Canada
Karate Kids Canada Instructor of the Year 2011
CPR – Cardiopulmonary Resuscitation Adult, Child, Infant
AED – Automated External Defibrillator
Specialities:
10+ years in the Fitness Industry
Weight Loss
Nutrition
Weight Training
High Intensity Interval Training – Tabata, Gibala, Timmons regimen
Circuit Training
Battle Rope Training
Strength Conditioning
Core Strength
Sport Specific Training
Functional Training
Stability/balance development
Group Training/Bootcamp
Sports:
23 minute plank
Run For Wells 2012 10 km hills run – 4th in the 30-39 age group, 6th overall, 1st for Burlington at 43:23
Mountain Man Competitor (31.6 km run with a 15 kg rucksack through Edmonton Valley, followed by a 3.2 km canoe portage, a10 km canoe paddle on the river and ending with a 5.6 km run to the finish with 15 kg rucksack. All done in Army boots)
Frequent Tough Mudder Competitor