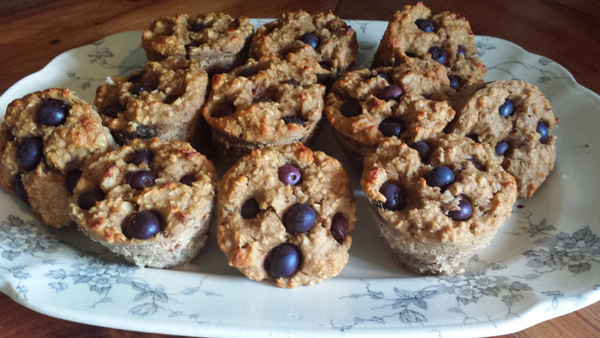 by Anna Sward, BodyBuilding.com
RULES OF THE RIGHT OF WHEY
There are four rules you must know to successfully cook with whey. Master them, and become master of the protein universe. You may use these rules to bake cakes as well but, for now, let's stick to pancakes and muffins.
RULE 1
Never-NEVER-bake or panfry a batter that is more than ¼ whey. This is because, naturally, whey has a tendency to go dry, rubbery, and "cardboard-up" (if you allow me to paraphrase Steve Spurrier and coin that expression).
You have to offset this tendency. How? By making sure that the rest of your ingredients weigh it down and add enough moisture to counter the whey.
RULE 2
You must always use what I call a primary moisturizer. This can be cottage cheese, pumpkin puree, Greek yogurt, or a cooked sweet potato. It can also be fruits such as applesauce, apples, bananas or berries.
RULE 3
You always need to have a type of flour in your batter. This will combine with your whey and give volume to your final product.
My favorite flours to use are oats, coconut flour, almond flour, oat flour, amaranth flour, chickpea flour, buckwheat flour or quinoa flour. These are excellent gluten-free, high-protein, and high-fiber flours.
RULE 4
Always use a binding substance like egg whites, whole eggs or a combination of both.
By following the above rules, you'll be able to make anything and everything with whey?from cakes and muffins to pancakes and breads!
The more you play with it, the more delicious variations of your protein favorites will result.
Add nuts, seeds, and any additional powders (e.g. cocoa, maca powder, lucuma powder), spices (e.g. cinnamon, cloves, ginger) and flavorings (e.g. vanilla essence, orange peel, almond essence) to your batter too.
The sky is the limit to what you can make once you understand the basics of whey protein cooking!
Experiment with your combinations. Find out what you like and don't like. Combine lemon peel with poppy seeds, cinnamon with vanilla, cocoa with passion fruit!
Try exotic ingredients. Be creative with your flavorings and remember to always build on what you learn along the "whey."
[useful_banner_manager banners=3 count=1]
[useful_banner_manager banners=2 count=1]