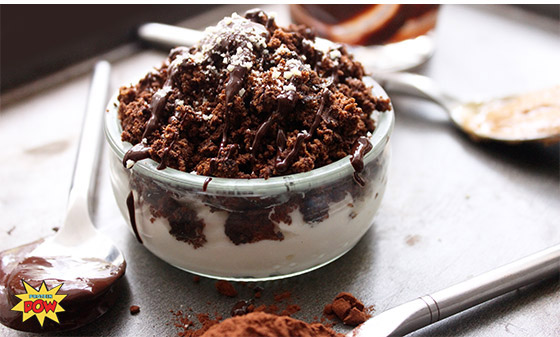 by Anna Sward, BodyBuilding.com
There are few things as delectable as digging in to a cookie crumble pot. As soon as you dip your spoon in, you get the crunchiness, creaminess, and warmth of chocolate paired with cool ice cream. It's that combination of cake and gooey chocolate that tops all else.
The best part: You can indulge without throwing your diet out the window. It's not wizardry I'm describing here. It's protein that packs a punch!
PROTEIN COOKIES
• 1/4 cup Dymatize ISO-100 Chocolate Fudge Brownie
• 1 tbsp honey
• 2 tbsp peanut butter (or three, if you're a sucker for the butter)
• 1/4 cup cocoa powder
• 1 small egg
FIRST LAYER
• 2 pots (340 g) Greek 0% fat yogurt
TOPPING
• 2 squares melted dark chocolate
• 2 tbsp ground almonds
Directions
1. Place cookie ingredients in a food processor and blend together until they form a paste.
2. Shape mix into 6-10 small balls and flatten each one on a baking-paper-lined cookie tray.
3. Bake at 350 F (175 C) for about 7-10 minutes, or until cookies are cooked through. Do not overbake. It's best to take them out while they're still soft in the center, because they tend to set a bit more as they cool.
4. To assemble cookie pots, layer 1/2 cup Greek yogurt into ramekins. If you don't mind adding a little extra fat, you can use ricotta or mascarpone, too. Crumble a cookie and sprinkle it on top. Add some melted dark chocolate and top with 1/2 tbsp ground almonds. Ta-da! It's delicious goodness in a bowl!
[useful_banner_manager banners=2 count=1]