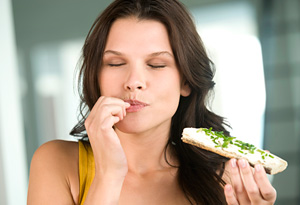 At HomeBodyFit, we're proprietors of the food journal. People are often unaware of what (and how much) they're eating and food journaling is a great way to change that! When we begin training, we give our clients the option of submitting a food journal after the first week. What we find is – like many of us – our clients eat subconsciously, taking snacks here and there without realizing their calorie intake or the (often negative) types of foods they are habitually consuming.
By submitting a food journal, we help our clients identify the habits that are often sabotaging their goals and create a new eating "guideline" that compliments their HomeBodyFit exercise regime. But rather than enforce a strict diet that involves calorie counting or food weighing (who has time for that?), we educate our clients on making better choices and feeding their bodies so that they never endure hunger. We provide guidelines that allow you some wiggle room (so that you're never board) and allows you to relax when dining out or eating on the run.
We're about gradual lifestyle change. We help build healthy habits, so that there is no dependence on a diet or schedule.  Food should never be synonymous with guilt. Instead, we provide healthy satisfying choices (for all times of day, e.g. before and after a workout) that fuel the body. Our number one rule: If you're hungry…EAT!  And eat from a long list of clean, easy-to-prepare snacks that will energize you. But better yet, never let yourself get too hungry. Get into the habit of satisfying your body (we even mandate an evening snack that helps you burn more calories when sleeping).
Rule number two: Eat more protein. You've heard this one before. Protein intake helps you lose weight. How? It's satisfying and it helps maintain the fat-burning muscle you're working so hard to achieve with your workouts.  
So forget about the old ideas of restricting (or counting) calories to lose weight. Instead, find out the right balance for you and your fitness regime. We can show you how!
Ready to get on the right track?  Fill in our online questionnaire for a FREE HomeBodyFit consultation.