Before you bypass group fitness, learn how sweating with others can help you achieve your fitness goals.
by Courtney Nielsen
BodyBuilding.com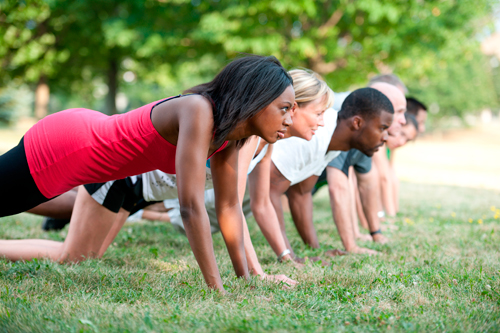 Group. Fitness. Classes. Put those three words together in a phrase—now read them out loud. Did images of spandex leotards, leg warmers, and Olivia Newton John-style workouts pop into your head? I honestly can't blame you if they did; the decade of "Let's Get Physical" still has some pull more than twenty years later. However, it's important that group fitness be associated with something else. Sure, hefting weights on the gym-room floor and hitting the treadmill are popular workouts for a reason, but ask yourself:
Are you new to working out/strength training?
Is your progress or motivation flagging?
Do you have signs of muscular imbalances?
If you answered yes to even one of the above questions, you could be… totally normal! And someone who could benefit from a weekly group fitness class or two.
1. YOU'LL RECEIVE GUIDANCE FROM A PRO
When training at home, one daunting question of self-doubt has no doubt come into your head: "Am I doing this right?" Well, it's hard to know how good your squat is if you don't have a giant mirror and no one is there to check your form! Of course, you can always pay extra for a personal trainer, but group fitness classes can be very helpful—and the price is often included in most gym memberships. A good instructor watches all participants throughout the class to make sure their workout is safe and effective. The instructor should also have fitness training and a certification under their belt, and it's not a bad thing to ask them about it, either. With your instructor's guidance, and by watching their moves closely, you can often get a safer, more effective workout than you would on your own.
Read more … see all 5 Ways To Get Fit With Group Workouts
See for yourself the benefits of group fitness. Contact Burlington Body Camp to try a class. Drop-ins welcome!