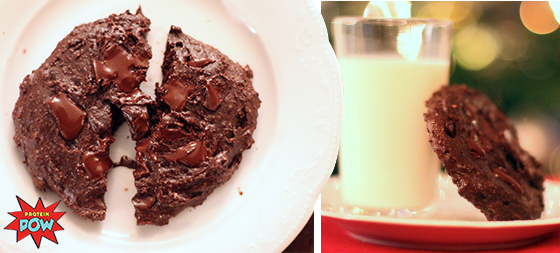 Looking to take a break from protein bars? Here's a BodyBuilding.com recipe for gooey, soft and intensely chocolaty cookies with extra protein.
Double Chocolate Protein Cookies
2 tbsp cashew nut butter
1/4 cup whey protein powder
1/4 almond milk
1/4 cup 100% cocoa powder
1 tbsp coconut flour
10 g 85% dark chocolate
Directions
1. In a bowl, mix all ingredients together with a spoon.
2. Bake as two "blobs," or four if you want to make smaller cookies. Use a nonstick or silicone cookie tray.
3. Bake at 325 degrees F (160 C) for about 25 minutes, or until the cookies are baked on the top and bottom but not fully cooked through. You want them gooey and soft in the center so they're chewy instead of dry.
NUTRITION FACTS
Serving Size (1 cookie)
Recipe yields 2
Amount per serving
Calories 280
Total Fat 18 g
Total Carbs 10 g
Protein 20 g
[useful_banner_manager banners=1 count=1]