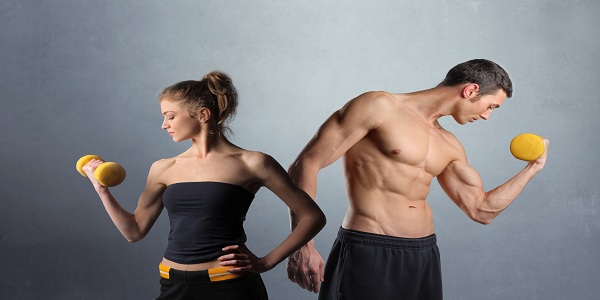 Have you noticed that the hand weights that used to challenge you and leave you pleasantly sore after a session are feeling a little underwhelming? If yes, it may be time to increase your weight.
Different goals for men and women
My male clients, for the most part, greet this suggestion with open arms. Women on the otherhand are often uneasy with the suggestion of lifting more weight, suspicious that it will cause them to bulk up.
To these clients (and women alike), let me assure you that a couple of extra pounds on your hand weights will only help you with toning and increasing muscle definition (not bulk), which helps one burn more calories at rest (and lead to weight loss and a more toned and athletic body).
What if I do want to bulk up?
If your goal it to increase muscle mass, this can be done…and it is a purposeful program (coupled with a meal plan that increases caloric intake substatially). Before I embark on any at-home program with a client, we discuss your goals and any initial questions (and any that come up along the way).
If you answer yes to any of the following, it may be time to talk to your trainer about increasing your hand weights:
Your progress plateaued
You have never increased your hand weight
Your weights are no longer a challenge to lift
You can do endless reps
Interested in at-home training and meal plans, contact HomeBodyFit to achieve your fitness goals!